After a wild and crazy night of baseball which featured one team being eliminated on a walk-off and one advancing on a walk-off, we finally have the eight (8) teams that will be in the Playoffs. Each of the four (4) games that matter last night all ended with in a 90 minute time span. But let me give you the brief summary:
St. Louis blanks Houston and Brett Myers behind Chris Carpenter's 2 hit 11 strikeout complete game shutout
The Phillies crush the remaining playoff hopes of the Braves in 12.
Atlanta eliminated. St. Louis is your National Wild Card champ for 2011.
Baltimore battles back to walk-off on the Red Sox in the bottom of the ninth by going: strikeout, strikeout, double, double, single to beat Papelbon and eliminate the BoSox.
In Tampa, Longoria and Dan Johnson eliminate a 7-0 hole to come back and walk-off on the Yankees and walk-off into the playoffs.
Boston eliminated. Tampa Bay is your American League Wild Card for 2011.
Here is a nifty timeline made by ESPN to recap the wildness of last night:
If you to see the full image, click this link to go to the ESPN article. So to recap:
Cards win and are in
Braves lose and are out
Rays win and are in
Boston loses and are out
Phew. So much craziness. And I found some pictures to describe the craziness.
The first one is from The Fightins (aka TheFightins.com):
The second image is from Some E-Cards: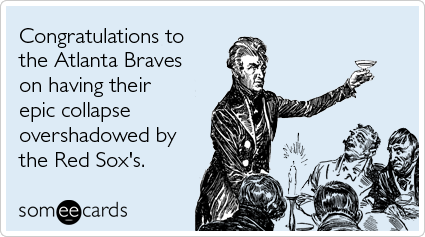 Another one I found on one of the many Social Networking sites:
and lastly… my personal favorite courtesy of Team To Beat or someone on twitter…
(All pictures belong to their respective owners. I do not own these pictures. I do not CLAIM to own them. Nor to I take any credit for making them. So calm yo tits, people. I am just giving credit to where credit is due.)
So here it is for 2011 my NLDS preview:
Prediction: Phillies in 3. Last time the Cardinals faced the Phillies, they faced the bench aka the Lehigh Valley Iron Pigs because the Fightins had locked up the Division and by that point Homefield throughout the playoffs (though they'd later clinch that vs. Washington). The Phillies will be trotting out their opening day roster (sans the Ben Francisco in RF). With a lineup that looks like:
Rollins
Utley
Pence
Howard
Victorino
Ibanez
Polanco
Ruiz
[Insert Ace Here]
It is going to be tough on the Cards pitching AND the Cards hitters. That's why I am taking the Phillies in 3.
My prediction for Phillies NLDS roster:
Pitchers:
Halladay
Lee
Hamels
Oswalt
Worley
Kendrick
Stutes
Bastardo
Lidge
Madson
BLANTON
I put Blanton in BOLD because I think Charlie will go with more experience here. Blanton has postseason experience. Herndon while he is serviceable, lacks the playoff experience.
Hitters/Position Players:
Rollins
Utley
Pence
Howard
Victorino
Ibanez
Polanco
Ruiz
Schneider
Gload
Mayberry Jr.
Valdez
Francisco
Martinez
I put Martinez in BOLD because Martinez can play a multitude of positions (2B, SS, 3B, OF), he can run a bit, and can cover more ground than Orr can. Not only that Martinez is a switch-hitter, so that pretty much seals the deal for Orr.
All that said: I am extremely excited to start the postseason. with this roster and this pitcher rotation, it makes wonder what if we had this back in the day. Once October rolls around every year I look forward to the postseason and the Philadelphia Flyers starting up. Man I love the Flyers. But postseason comes first. My first taste of the postseason with the Phillies came in '07. I was there on that Sunday, 9/30/2007. I watched from 102 as Brett Myers threw a nasty hook to strikeout some National and clinch the National League East/reach the playoffs for the first time in almost 14 years. I loved every minute of that game. I went to game 1 or 2 of the NLDS that year. They lost, but I still enjoyed it.
The next year I watched as Brad Lidge turned a double play to seal the deal for the second straight year in person. Then I watched Brett Myers work an epic AB vs. CC Sabathia and then watched as Shane Victorino took CC for a bases loaded ride. A grand slam. The stadium was going absolutely flipping nuts. I went to Game 2 of the NLCS. I watched in amazement as Brett Myers knocked Chad Billingsley out of the game with epic at-bats. I watch them win the World Series at home.
2009 I again watched them clinch for the third straight year in person. I was heartbroken as I watched the Yankees clip the Phillies in the World Series.
2010 I watched Roy Halladay clinch the division in D.C. (from the comfort of my house). I watched as Roy Halladay just dismantled the Cincinnati Reds. Hitter after hitter I watched go down swinging, looking, flailing uselessly. Doc was merciless. I jumped when he threw that no-no. But I'd give back the no-no for a trip to a World Series last year. I was shellshocked when we lost to that rodeo clown Cody Ross and douchebag Brian Wilson.
Now this year, 2011, could be the best postseason ever for the Phillies. I am flat out, motherflipping, PUMPED THE HECK UP for the NLDS to start! But first I got a Temple football game to attend on Staturday!
I live for this!
Posted on September 29, 2011 at 12:24 pm

Filed in:

Phillies